Part Design Uses the term Pad in place of Extrude.
The Pad function can be executed from one of three places in the Interface
From the Main Menu.
With the Part Design Workbench selected, the Part Design command menu will be shown between the Macro and Windows Menu

Once selected you will find the Pad command about half way down.

From the Tasks Tab in the Combo Menu
When a sketch is selected in the Model View the Pad command will be listed in the Tasks Tab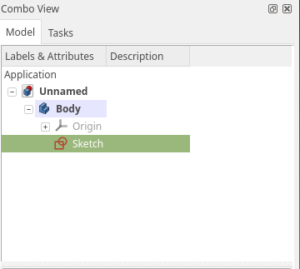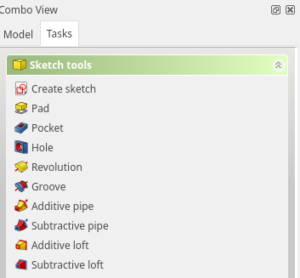 From the Part Design Toolbar
Selecting the Pad Icon from the PArts DEsign Toolbar will bad the selected sketch or the lasy Non-Padded sketch listed int the Model Tree

Using the Pad
Regardless of which method you choose to begin the Pad process there a few things to note.
Contiguous Sketch
Your sketch must form a complete shape. FreeCAD will not be able to determine what to Pad if the shape is not "closed."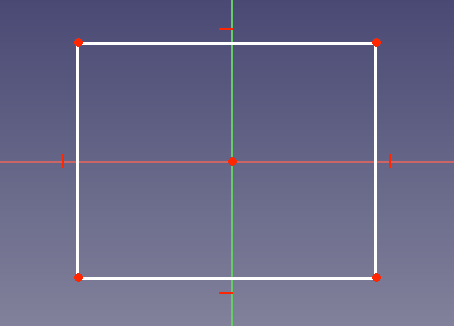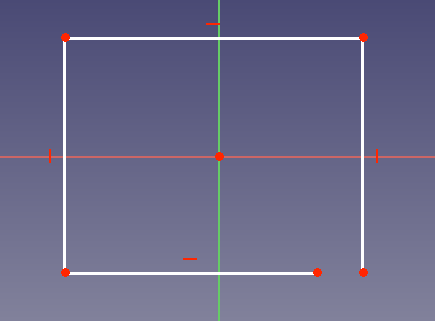 Single Item
The Sketch cannot result in two items distinct in the model space. Although Sketcher by itself is ok with this concept the Part Design Workbench is conceptualized around designing a single part. If you absolutely need to "Pad" with multiple distinct shapes, you can use the Part Workbench and Extrude the Sketch. However, the object will be outside of your Body.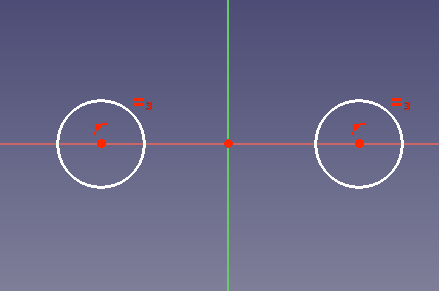 You can invoke the Pad command, however your model will dis-appear and if you click "Ok" you will recieve the following error.

The Report view may show an error when you begin the process.
Manipulating the Pad
A succesful Pad operation will display the Padded sketch and allow you to select the parameters.
Type
The most common type of Pad is Dimension. The Dimension option will create a Pad of "Length" in the Positive Z Direction of the Sketch. It is important to understand that each sketch has an orientation. If the Pad seems to be going the wrong way you may use the "Reversed" option.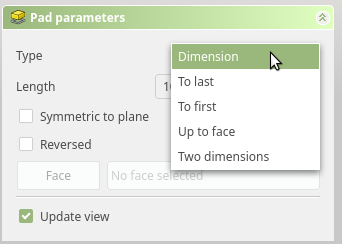 The other Types work as expected
To last – Pads to the last face in the direction of the Pad
To First – PAs to the first face in the direction of the Pad
Up to face – Pads up to a selected face.
Two dimensions – Creates a pad with a total length of both dimensions, with the sketch origin at the zero points of each dimension.